Welcome to
Hannah's Home Page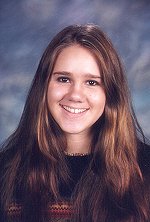 Strike a light, it's a beautiful world!

(updated: 3/12/2000)
---

Check out the Dancing Baby
Some Cl Links


Pictures of my pets
Me and some of my friends
A Few Quotes



Life is not a problem to be solved..... It is a journey to be experienced.





I was diagnosed with Type 1 Diabetes (Insulin Dependant) on January 17th 1993. I try to take good care of myself & hope all other diabetics do too. I sure hope a cure comes along real soon !

Aug. 23, 1999 I started using a Minimed Insulin pump, and I like it a lot.

Diabetes Related Links:

Diabetes related Software
The American Diabetes Association Home Page
Diabetes Research & Treatment Center
The Canadian Diabetes Association
Children with Diabetes Page
The Joslin Diabetes Center
Eli Lilly web site



Thank you for stopping by
Comments or Questions Drop me a line Ya'll !!